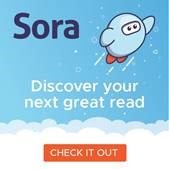 Good Afternoon,
OverDrive is our district's eBook service that is available 24 hours a day 7 days a week. Check out books such as Wonder, Harry Potter, The Land of Stories, 39 Clues, Steelheart, the Michael Vey series and many more. Books are available to all students and staff members. Teachers and students are welcome to use it during daily instruction.
There is a link to OverDrive on the left side of all of our schools' web pages at www.d93schools.org. There you will find links to help pages and help videos, as well as Sora Login instructions.
OverDrive also has a more student friendly app called Sora. Use the Sora Quick Start Guide to learn how to download the app. Once downloaded, if you choose search at the top, then advanced, you will find multiple search options. Both the Sora app and the OverDrive app allow you to access your Bonneville Joint School District 93 account and your Idaho Falls Public Library account simultaneously.
If you have questions, please contact me at briggsju@d93.k12.id.us
Sincerely,
Julie Briggs, M.Ed
Assessment Specialist
Bonneville Joint School District 93
208-557-6868
briggsju@d93.k12.id.us